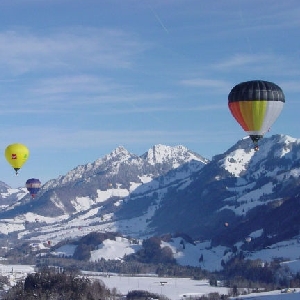 We invite you to share a true adventure and view Catalunya from the sky, a fantastic balloon flight. From the moment the inflation of the envelope begins until its repacking, after landing, the balloon flight will be an experience you will remember for the rest of your life. Discover a new world of sensations and visual pleasures blowing in the wind!
We offer passenger flights in hot air balloons, a leisure activity in the tourist sector for individuals and groups. This consists of a flight over the area of Vic (Osona - Catalunya) or other areas of Catalunya (where such flights are permitted), mostly over wonderful countryside and small towns.
For the majority of passengers this will be their first balloon flight and we hope to deal with all your questions accordingly.
It is an active excursion which lasts a whole morning, beginning in the early morning (from 7.00a.m. in Summer and from 9.00a.m. in Winter) so as to avoid the maximum effects of the suns heating of the atmosphere. It consists of a flight of more than an hour, followed by a typical brunch in one of the farmhouses which are characteristic of the area.
Finally, passengers receive a Diploma, signed by the pilot, certifying their participation of the flight.
A balloon flight is the safest means of flying and all necessary precautions are taken to ensure that safety is preserved. The flights are only undertaken when meteorological and atmospheric conditions, and forecasts, are good.
All pilots possess valid credentials issued by the Dirección General deAviación Civil (Spanish Civil Aviation Department), and their Pilot's Licence.
Insurance: We have policies covering Civil Responsibility and Passenger safety.
Adventure: Balloon rides are sold as an adventure sport or activity, we take all possible precautions in order to ensure the risks are effectively nil.
For those who wish to fly, there is no age limit.
All flights are undertaken in gentle wind conditions, allowing calm and enjoyable flights.
PRICE PER PERSON
from €200

LOCATION
North Barcelona

DURATION
Approx. 1 hour flight, longer flights available

AVAILABILITY
All year round, from Monday to Sunday

PARTICIPANTS
The balloon holds 6 people and 1 pilot

WEATHER
This experience may be limited by high winds or other inclement weather conditions

WHAT TO WEAR
Comfortable clothing recommended

ADDITIONAL INFO
This event is very popular, so you are advised to book well in advance.
It is not advisable to fly for those with medical conditions.